Hello ladies!
I have a blogpost all about brows today, I've been a huge eyebrow person ever since forever, I started "taking care" of my brows long back when I was in high-school, I used to pluck them horribly thin it was so embarrassing lol but anyway they're all grown out now no worries, what I'm trying to say is that I've experienced with everything when it comes to eyebrows, from threading to waxing to different brow products so it's about time I write down what I've learned.
I've settled for tweezing the stray hairs at home, I've stopped threading about a year ago, my eyebrows are fully grown & are in they natural shape. Every 3-4 days I tweeze the few hairs that grow below my natural eyebrow shape.
I'm not saying people should start doing that I know girls who have beaaautiful eyebrows from threading & girls who have beaaautiful eyebrows without touching them so just do what works for you!
I've tried filling my eyebrows in 3-4 ways so far, I'll let you know what's the difference between them.
Okay so first these eyebrow "tattoo's", don't be fooled by the name, they don't give that horrendous tattoo looking brows, they can look very natural.
They're a colored liquid that dries into a waterproof formula, you use an angled brush, squeeze some out & then just dab it on the opening to get as little as possible on your brush, then fill in your eye brows with little strokes.
They're waterproof which is awesome, I don't wear makeup to the gym but if I ever have something to do after going to the gym I'd use one of these really quickly & it'd stay on ALL day & won't budge.
They're really good if you want to extend or 'redraw' your eyebrows maybe add an arch or lengthen the edges, if that is your thing, these work perfectly.
If you're a natural eye brow lover, like me, you'd still like these because you can use very little on your brush & then just fill your brows in where needed & the end result will look natural. It's not as natural looking as powder, it can be a bit messy if you don't know how to really work with it & you have to remember you need a good brush with them.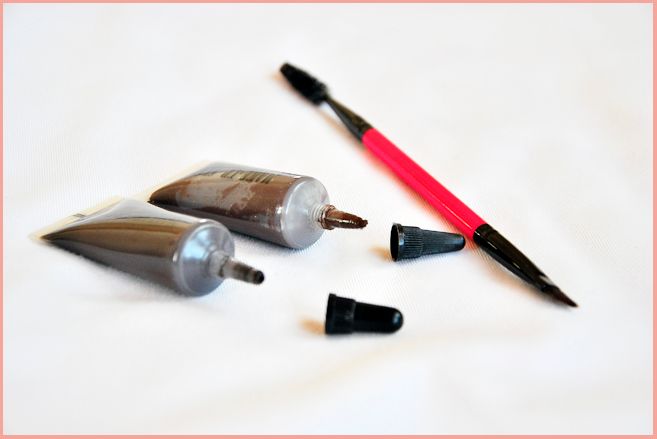 I bought an eyebrow tattoo from makeup forever a couple or more years back. It was 17 OMR when I bought it & it came with two tiny brushes that worked perfect with it.
Later around that time I dyed my hair brown & I needed something lighter for my eyebrows, I found an identical one from a store called Lilac in Al Bahja center, it was only 6 OMR! It worked identically to the MUFE one, although the brushes that came with it were not as good, you can always use your own angled brush. Not long ago I've checked the Lilac store & they still carried it. The brand is called 'Make-up Station'. I recommend you try the Makeup station one instead of the 17 OMR makeup forever one.
Another method is eyebrow powder, it is the most natural of all methods. It's just some powder that is a kind of a dark brown, usually comes with a wax that you use before the powder to hold it in place.
The benefit one I own is very light & natural I don't use it unless I want really natural undetectable brow powder.
You can't really extend or draw your brows with this, unless the powder is very dark but it still won't be as good as a tattoo or a pencil.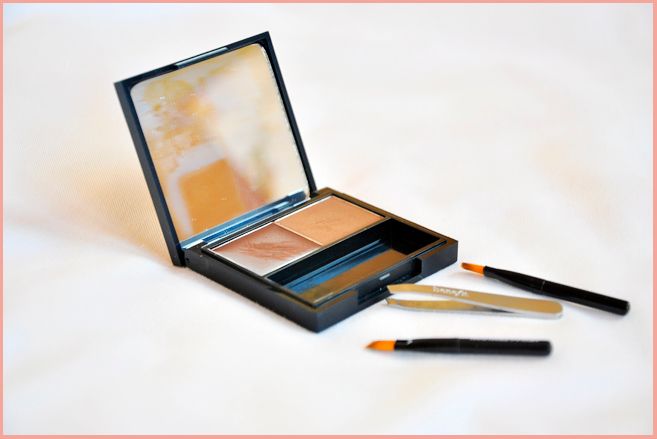 Finally brow pencils, there are two types of pencils, mechanical (twist up) pencils & normal pencils.
These are my go-to eyebrow stuff, they're the easiest & the least time consuming for me. Not as natural looking as powder & not as long lasting as tattoos, but they're the easiest!
Just a few strokes on the tail of my brows & a few strokes in between the hairs & I'm done, you can add an arch or extend them or redraw them and then use a spooly or an eyebrow brush to brush them through for more natural looking brows.
I hope this was helpful guys, especially if your're confused & new to eyebrow filling.
Have a nice day xxxx